For Creating Digital Signature Certificate Video Verification Must be required for any DSC approval. here we are explaining Video verification of Digital Signature.
Digital Signature Bazaar is India's One of the top Digital Signature Certifiacate Providing Company. We are Providing all types of Digital Signature Certificate like Class-2, Class-3, DGFT, E-Pass Token With Very Affordable Rate. We are providing Highly secure Digital Signature Certificate services At your door place in all over India.
Buy Digital Signature Online with Lowest Rate :
We are Providing Class-2 DSC for Income-Tax E-filing, GST E-filing, MCA / ROC Form filing, Form 16/16A Filing. We are Providing Class-3 DSC for e-Tendering, e-Procurement, e-Auction, e-Ticketing, Trademark / Patent filing. We are Providing DGFT DSC for Import / Export Services.
In Digital Signature Creation for Individual or Organization. Must required Video Verification of Applicant with proper Audio & Video. In e-Mudhra Digital Signature Applicant will be done their video verification process with 2 Different method. applicant can done through any one method.
Video Verification of Digital Signature – Emudhra Video Verification
Click Here To Read Full Article Of Emudhra Video Verification
through Internet Browser Via Link that provided in Applicant Mail id.
e-mudhra Customer Application (Android / IOS)
Applicant will have to perform their video verification through any of the above method and submit the recording.
via Link on Browser :
In this method applicant will received one Email from e-mudhra and Digital Signature Bazaar. applicant have to find video verification link in that mail and open it. after opening the video recording portal, Applicant will check their name and 3 digit video code, If all the information is correct then click on accept in check box and start the recording. in this video you have to speak as per given details,
Applicant Full Name – (Said your Full name as PAN Card)
I want to apply DSC through Emudhra- ( Said Simply "YES")
Speak Video code given on screen – (3 digit code)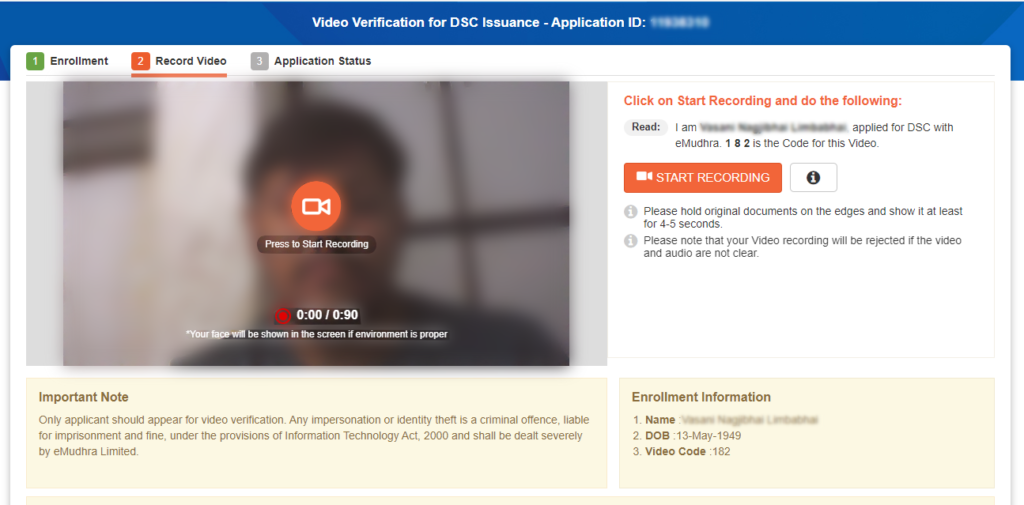 In Above video we are showing complete process of video Verification through Browser. play this video and watch complete video till the end.