Hey friends are you looking for emudhra Digital signature certificate? If yes, then you are at the right page. in this article we are explaining you everything about emudhra dsc and give step by step emudhra dsc process briefly.
Emudhra digital signature is one of the best and largest Certifying authority of Digital Signature Certificate under under information technology ACT of india since 2008. Emudhra provides various product solutions to indian customer, with very large user base like Individuals, Corporates, Banks, Government Organizations, and several small and medium businesses.
Emudhra Provides Complete paperless Digital Signature certificate through online process. User need to submit online documents and complete some verification steps as per guidelines. then verification team will verify your details and give you approval for your dsc process. after that you can download your digital signature in USB token. this is a basic information about how emudhra works.
Digital signature bazaar is one of the biggest digital signature providing company in india. We are registered authority to more than five companies including emudhra in india and provide partner login / Franchise to everyone who wants to start their own digital signature business with very low investment and earn money from it.
Emudhra Partner Registration – How to become Partner In Emudhra Digital Signature?
Here in this section we are explaining you how to become emudhra authorized dsc partner and how to apply for partner registration process in emudhra dsc.
Emudhra Provides Two types of portal to issuing Digital Signature.
1) Controller Login
2) Partner Login
Controller Login is one type of account. in this account user will become main controller of digital signature and appoint Partner's from different city's under their controller portal and manage all the partner from this controller account. This controller account is suitable for those who are working regularly in digital signature filed and who have very large network of people whom he offered digital signature franchise and they regularly purchase digital signature stock from you. So this is the main work of Controller account.
Partner Login is second type of account. In this account user can issuing digital signature directly to their client and start their online business with few simple steps. You can open your partner account from any controller in india or else directly to emudhra. But as per our research at very beginning stage if you want to buy dsc directly to emudhra it will cost very high. so I suggest you to open your partner account from any authorized controller of emudhra who offering you lowest rate of dsc with minimum quantity.
We are authorize Controller Of Emudhra Digital Signature Certificate since five year. And we have more than 250 emudhra partners so if you want to join with us then contact us now for partner login. we will provide you price in email or in phone call.
1) Email : digitalsignaturebazaar@gmail.com
2) Phone : 07984008896
To Become Emudhra Partner : Click On Link
Emudhra DSC Application Process :
Step 1 :
Search for Emudhra Partner Login. Open the link shown in Search result on Google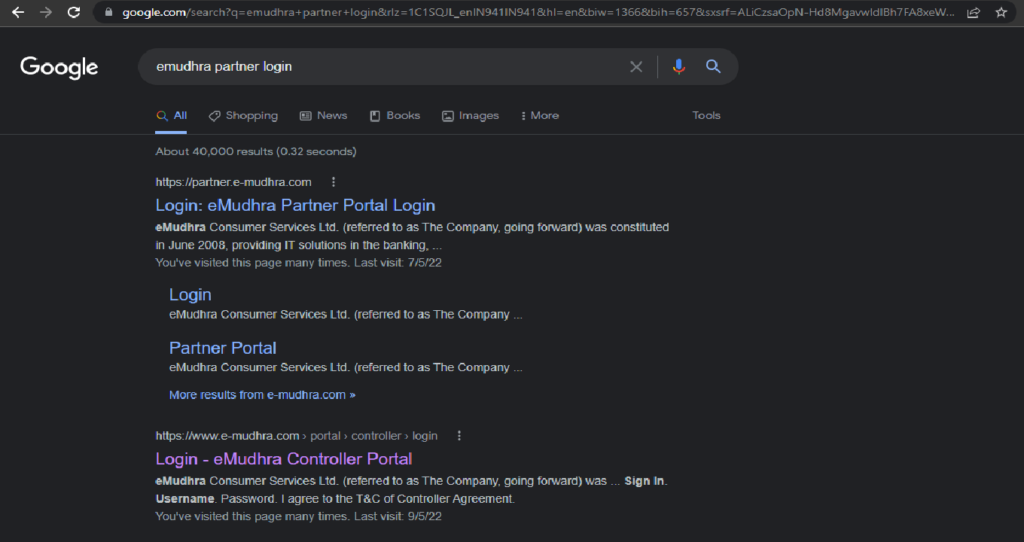 Step 2 :
Click on the first link and Go to Partner Login page.
Step 3 :
Enter Your Username and Password and tick on agreement and click on submit button. Then you will redirected on login page.
Complete Process Of Emudhra Digital Signature :
There are Mainly Two types of Digital Signature Certificate. 1) Individual DSC & 2) Organization DSC
Further Is Classified In :
1) Class 3 Signing
2) Class 3 Encryption
3) Class 3 Combo (Signing + Encryption)
4) DGFT Signing
Step 1: Click On Paperless DSC -> then Click on paperless DSC issuance Link.

Step 2 : Click On Visit Page link
Step 3: You will redirect to paperless Digital Signature Page that shown below.
Individual Digital Signature Process Of Emudhra :
In Emudhra digital signature, user can apply Individual Dsc through Four Different ways. you can choose the best and easy method as per your choice. All four method is very easy and paperless.
Aadhaar Biometric KYC (Individuals)
Aadhaar OTP + Video KYC (Individuals)
Offline Aadhaar XML + Video KYC (Individuals)
PAN + Video/Document KYC (Individuals)
Aadhaar OTP + Video KYC Process Of Emudhra :
In This Process Applicant Mobile number must link with Aadhaar Card. Then Applicant have to enter their Aadhaar card and pan card details. Complete OTP verification process from mobile number and email id. and Complete Video Recording as per given details and instruction.
Offline Aadhaar XML + Video KYC (Individuals) :
In this Process, Almost Similar to Aadhaar OTP base process but applicant need to download their Offline Aadhaar XML File from UIDI Website and Rest Of the process is same.
PAN + Video/Document KYC (Individuals) :
In case of applicants Mobile Number does not Linked with Aadhaar card then Go with PAN Based Digital Signature Process. In This process Applicant Need to fill all the required details including PAN card. then Upload All the required Documents Like PAN Card, Aadhaar Card, Photo. Next step to complete Mobile and Email OTP verification and the Last step is To complete Video Recording As per Given Details. In this process Applicant need to show their original Pan Card And Aadhaar Card in Video to verify the user.
Aadhaar Biometric KYC (Individuals) :
This Aadhaar Biometric KYC process is Newly launched by emudhra. and This is one of the best and easiest process For Individual Applicant. In This Process Applicants Verification Through Fingerprint by Biometric Device. Applicant No need to Record Video for verification process and They get Instant Approval For their Digital Signature within minute. So this is Very Fast And Easy Process now a day in Emudhra.
Organization Digital Signature Process Of Emudhra :
In Organization Process Applicant Need to Fill All the required details Of their organization and Upload All the Original Documents for the same. After that Applicant need to complete OTP verification Process Of Organization. and the last step is to Complete Video Recoding Process. In Video Applicant Need to speak As per Given Details in Video And Show their Original Copy of Documents During video Recording So Emudhra Verification team will easily verify and and give approval for your application.
Required Documents For Organization DSC : Click here
Here is the list Of Organization That applicant Can Apply Digital Signature For it.
Emudhra Video Recording Process :
In Emudhra There is Two Types Of Video Recording process One is For Individual Applicant and second is for Organization Applicant.
How To Upload Video Recording Of Emudhra DSC -> Click Here
Emudhra DSC Certificate Download :
In Digital Signature User need to Download Their DSC Certificate In USB Token After Approval.
In India user mainly use USB Token Like :
1) Epass 2003 Auto
2) Watchdata Proxkey
3) Mtoken
4) E-Token Alladin
To Know more about Emudhra USB token, Which is the best USB Token and how to purchase it. After Purchasing Token, How to Install its Driver in your system. To Know Complete Guidance Click Here.
If you Want To Know About Complete Process Of How to Download Your Digital Signature In USB token with Few Easy step And Complete Driver Installation Process.
Emudhra DSC Download Process In USB TOKEN : Click Here
Emudhra DSC Price :
In Emudhra There is Many Different Prices at different Partners. Its Depend on you how much quantity do you want to purchase at a time. If you purchase bulk quantity then it will cost lower. and if you purchase single quantity or limited quantity it will cost higher.
DSC Price is not fixed, it can be change anytime, so if you want to purchase in bulk quantity pls contact us to know current rate of DSC emudhra and get best and fast services from digital signature bazaar.

Price Of Emudhra Digital Signature :
Class 3 Signing + USB Token ( Individual ) : 800/- INR ( Inc All tax )
Class 3 Signing + USB Token ( Organization ) : 1000/- INR ( Inc All Tax )
Class 3 Combo + USB Token ( Individual or Organization ) : 3500/- INR ( Inc All Tax )
DGFT Signing + USB Token ( Organization ) : 3500/- INR ( Inc All Tax )
Emudhra DSC Renewal Process :
When your Digital Signature Certificate's Validity has been expired, you need to renew it again for further use. actually as per emudhra there is no renewal process. you have to apply for fresh new process every time when you want digital signature. But one thigh is you can use your old USB token for your new certificate and downlead in it. So DSC process we already explain you earlier in this Article. so We dont repeat it.
Emudhra Utility :
In Emudhra Utility page you found all the required drivers for DSC use and download in your system. If you want to Download any Driver regarding Digital Signature Click On given link below.
Download DSC Driver -> Click Here
Emudhra Customer Care :
If your are Customer :
Please call emudhra on our customer support number 080-46156902 or email us on info@e-mudhra.com.
If you are Registered Authority (RA) :
Please call emudhra on our customer support number 080-46156902 or email us on rasupport@emudhra.com